The Indus Valley Stick Dance
I just finished reading "The Indus" subtitled "Lost Civilizations" by Andrew Robinson. It is an enjoyable, readable overview of the Indus Valley Civilization (also called The Sarasvati-Sindhu Culture or SSC). The book covers the opinions of archaeologists who worked on-site as well as those of scholars trying to understand it. The Bibliography is reasonably comprehensive. In short, worth reading.
But, consider this seal from Mohenjo-daro …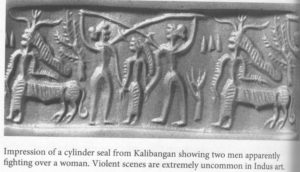 This seal appears on page 108 of my edition of Robinson's book and was originally published in Jonathan Kenoyer's "Ancient Cities of the Indus Valley Civilization" (page 117).  Robinson comments:
"Apart from the generally agreed absence of military weapons in excavations, Indus art scarcely depicts fighting. Bows and arrows made of cane are depicted, but the only definite scene of fighting in the entire corpus of Indus art is a cylinder seal from Kalibangan. It shows two men apparently fighting over a woman in a long skirt with long braided hair and bangles on each hand. Each man grabs one of her hands, while their spears form an arch over her head. They are watched by what looks like a female deity with the body of a tiger and the horns of a markhor goat. So the scene is partly mythical. Even if it also represented fighting between mortals, notes Kenoyer, 'Both men are dressed in the same manner, suggesting they are from the same ethnic group, so it is clearly not a battle to protect a woman from an outside raider.'" [Kenoyer 1998]
Coming from a patriarchal, war-making, non-agricultural/urban cultural background, Robinson makes a set of easily-made-assumptions (which he inherits from Kenoyer).
The Problem
Passive Woman, Violent Men
What's the problem with this observation? Note that it is the ONLY image from SSC that seems to show a violent scene. A person immersed fully in a culture that expects to see violence will see violence. The long sticks are weapons. The men are fighting over a woman. The woman in the middle is holding hands with both men – they are pulling her in opposite directions. The victor will claim her as a trophy. She doesn't choose, she is a mere object. Is it a surprise that a person from a patriarchal culture sees men fighting over a trophy woman.
Deities Everywhere
A second point: a person from a culture that has religion at the core of its ethos will see the creature to the right as a deity. He guesses that the deity has animal faces because the faces represent (unknown) powers or capabilities ascribed to the deity. Also, the deity must be mythical because ancient cultures have mythical deities looking like animals. Not like modern monotheistic man.
Perhaps the last sentence is unfair criticism, because we know that many Bronze-Age cultures did have deities. But then … it must be that if one culture believes in deities all must because the concept of an anthropocentric and poly-zoomorphic deity is such a compelling explanation for all natural phenomenon!
Is that so?
A Simpler Explanation
There is a simpler explanation, one that I exploit in my novels based on the characters of the Mahabharata.
The Ladies' Triumph
The seal portrays the men and woman performing a dance. The two men have formed an arch with sticks over the woman in the center. Note that the men are using opposite hands to hold the stick – this is what would happen in a "honor march".
Is there any reason to believe such an explanation? Yes, because such formations exist in the folk and court dances of many cultures. I can even point to a specific Scottish country dance, "The Triumph" which has a few steps with the woman in the middle, hands crossed in front and holding the two men's inside hands, while the mens' outside hands form an arch.
Is there any reason to believe this explanation? Yes.
The seal is (could be) a portrayal of a street performance, surely an unusual image to put on a seal.  Maybe this was the seal of a performing troupe that was  popular. That would explain an expensive seal of this size and quality. It is a one-of-kind seal — that may explain why only one such seal has been found.
A Hobby-horse!
How about the creature to the right? Is there an explanation for that? Yes.
Many folk-dance groups, particularly street performing groups, will dress one or two of their dancers as an animal, called a hobby-horse. The hobby-horse is responsible for "busking", i.e., cajoling contributions from the audience.  Hobby-horses come in many different forms – some traditional designs exist that are more common than others. In this case, two performers would make up the portrayed hobby-horse – a standing person in front who has the face and horns and sometimes dances to the music, while the second person is the body and rear end of the animal.
War is not necessary
We should be clear about something else – the people of SSC were not unfamiliar with war. Traders from the Indus Valley regularly came to Sumer for some centuries around 2000 B.C.E. They would have known about wars and it would have been easy [i]for an unscrupulous trader to bring or create an army and attempt to take over. There is no evidence of such an event – it appears that Indus Valley residents were not susceptible to temptation.
A Note for the Folk-dancer
[i] Instructions for the dance with the steps of the Triumph highlighted:
THE TRIUMPH (R4x24) 4C set Nathaniel Gow RSCDS Book 1
1- 8    1s lead down the middle and back to top, 1M presenting 1L to 2M
9-16   1L+2M with nearer hands joined dance down the middle followed by 1M,
1L+2M turn inwards (holding hands) and with crossed arms gives LH to partner,
1M+2M join free hands in arch over Ladies head and all 3 dance up in "Triumph", 2M returns to place
17-24 1s dance special Poussette (¼ turn, travel, ¼ turn, ¼ turn, travel, ¼ turn, ½ turn) down the middle to 4th place
as 2s+3s+4s step up
(MINICRIB, Dance Crib compiled by Charles Upton, Deeside Caledonian Society, and his successors)