The invention of a written script
The ancient written script of South Asia was Brahmi. The frame story describes the invention of a script adapted to the language of the main story.  Is there a connection?
One amazing, almost unbelievable, observation about the use of writing in South Asia is how late it shows up.  The first extensive appearance of writing is during the reign of the emperor Chandragupta Maurya, around 300 B.C.E. Within a few years, by the time of Ashoka the Great, writing was in use all over South Asia, more or less using a common script with a few regional variations.
What was Brahmi?
The Buddhist work Lalitavistara Sūtra mentions Brahmi in a list of scripts. The name does not occur again in the Sutra. The Sutra itself is not written in it.  All the other scripts mentioned in the sutra have been identified. The implication is that Brahmi is some other script. A French scholar Albert Étienne Jean Baptiste Terrien de Lacouperie hypothesized that the Mauryan-era script was Brahmi. No proof has been found to support this hypothesis nor has there been any disproof. In the absence of data, historians and linguists have continued to use the name for this ubiquitous script, found all over South Asia.
Evolution of Brahmi
There are two forms of the script used in South Asia. Northern Brahmi was used in the north of South Asia and extended into the Buddhist-influenced cultures north of India, from Afghanistan to Xin-jiang. Southern Brahmi, sometimes called "Tamil Brahmi" was used in the Deccan plateau.  It is possible that the Southern script is the older one — some of the oldest inscriptions occur in the Deccan plateau or in Sri Lanka.
The script evolved rapidly and within a few centuries, Brahmi-based scripts had spread all over the then known world (except for the West where the other, older scripts continued to dominate).
Here is a map from late Brahmi to Devanagari: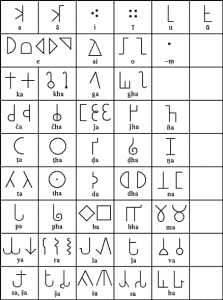 Here is an example of syllable formation: